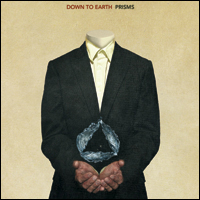 Thrice is on record for saying that they have progressed past their older melodic post-hardcore sound. Who would have imagined that one of the best replacements for the lovers of older Thrice would be French? Down To Earth channels Thrice, Fugazi, and At The Drive-In in creating a brutal, yet melodic effort.
Prisms
is centered around the three opening tracks, "Prisms 1", "Prisms 2", and "Prisms 3", that almost seam together perfectly and seem like three parts of one, larger track. The tracks build up until the angry climax of the three songs that is "Prisms 3", which shows off the band's strong talents, showcasing mighty riffs and a driving rhythm section, highlighted by the bass lines. The first two minutes of "Versus" are instrumental, combining atmospheric with some extremely dark riffs, before mellowing out, then busting out with the band's signature heaviness by the end. "Radio Stoned" takes a lot from At The Drive In's
Relationship and Command
both instrumentally and vocally. Early 2000's post-hardcore has been dying out as bands mature or break up. Down To Earth brings back the good feeling about the genre, and gives hope for its future. Stream the album on their Deep Elm page
here
.