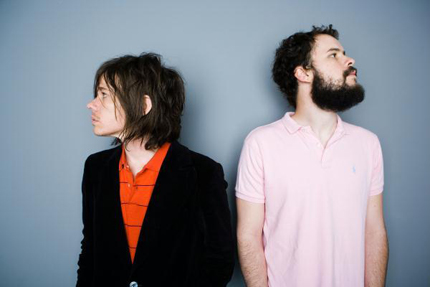 A friend of mine commented to me the other day that he was "shocked that the guy in fun. actually has a good voice without autotune," to which I replied "Duh. Haven't you ever heard of The Format?" Obviously, he hadn't, for few have. The Format does indeed fun.'s incredibly talented vocalist Nate Ruess with the help of multi-instrumentalist Sam Means, who does everything else. The duo released just two albums together, but the sheer quality of these albums should make The Format household names, especially now that fun. is one.
The Format have two pretty distinct faces to their music. Most of Interventions and Lullabies is straight-forward pop-punk that could have had moderate radio success and even had one song, "Wait, Wait, Wait" featured as the theme song of the dull reality show "Laguna Beach." However, it was acoustic songs like "Give It Up" that showcased the bands strengths coming from less conventional arrangements and Ruess' gorgeous voice. The band showed a great deal of potential on the album- complete with poppy hooks and lyrics that veered away from the radio-friendly themes that dominated albums at the time. The band's real triumph, however, was their second album: Dog Problems.
In my mind, Dog Problems, is the perfect indie pop album. At times, it's simple- such as Ruess crooning "Can we take the next hour/ and talk about me?" over snare drum tapping from Means- but other times, like the orchestra-backed title track, it's grandiose and complex. In some ways, the music seems to be mirroring the people creating it: simple guys from Phoenix, Arizona with a grand vision of what music should be. The instruments are unconventional- a harpsichord on "Snails," a french horn on "Dog Problems- the lyrics are incredible and the talent is overwhelming. In times where indie pop is considered potent if it has a drum machine and keyboards, this relic blows away all of the contemporary stuff (including fun.'s highly acclaimed album from earlier this year). The Format, ironically, followed no format at all with making their albums; no songs sound alike and most are built on seemingly random metaphors. A band like The Format doesn't come around often- and it's unfair that when The Format did come around, few stopped to listen to what they had to offer.
Although the band is no longer around, their
Facebook
is.