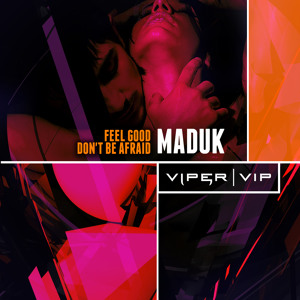 It's always nice to see a small artist who has always deserved more recognition "make it big." Maduk, a Dutch drum & bass producer, is one such artist. He's always had a devoted following - YouTube promotion channel Liquicity has promoted his stuff for a while now, and continues to do so here - but it's good to see he was snapped up by major DnB label Viper Recordings on their VIP imprint for new artists. He's been an incredible producer for quite some time now, as his song "Ghost Assassin" single-handedly caused one of my friends to change over entirely from playing multiplayer online video games to single-player games with worthwhile storylines thanks to the song's beautiful, shimmering portrayal of a portion of the
Starcraft 2
story. No doubt, then, much of his fanbase is rejoicing at the release of his latest single at the hands of a big-name label.
Feel Good / Don't Be Afraid fulfills a lot of the expectations people had for Maduk's Viper debut. "Feel Good" is especially worth note, as it's pretty much a synthesis of everything right with today's liquid funk subgenre. The synths are twinkly and fast, and complement the meaty lower-register chords that make up the backbone of the song perfectly. "Feel Good" is a tune that fits well over a variety of settings: it would work at a club thanks to its standard yet fitting drums, it would feel at home on a radio station because of its poppy aspects (saxophone, catchy vocal sample, and simple, catchy melody), and it's great from a critical standpoint because it's an interesting piece that's immediate yet stays fascinating and fresh over a number of listens. The song is truly excellent, and it serves as a good addition to any liquid funk playlist as well as a good introduction to the genre.
You can stream "Feel Good" on Viper's official YouTube channel
here
.