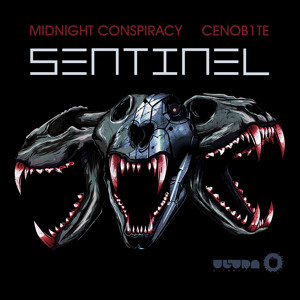 Midnight Conspiracy and Cenob1te are both going to be names to watch in the EDM world in the next few years. Neither duo has been in the spotlight until about half a year ago, when the producers were featured on BT's
Laptop Symphony
with their song "The Eye," a huge electro house tune that was a good display of everything right in the "bro-house" world. The heavy sawtooth wobbles and pump-up drums of the song pushed both duo's first major-label single release to the top of electro charts around the world. And as much as neither Midnight Conspiracy nor Cenob1te are going to win any awards for subtlety (the latter's first major release came on Excision's notorious label Rottun Recordings, and the former is often grouped with producers like At Dawn We Rage thanks to a similarly abrasive style), it's not what either is going for. For what it's worth, the style of "brutal" house that "The Eye" used worked, creating mayhem whenever any DJ dropped the song during a performance.
The producers have teamed up for a second time with "Sentinel," both groups' second release on Ultra Records and one that's sure to do things similar to those which "The Eye" accomplished. Because, after all, it's very similar idea-wise. It's a 110 BPM complextro working that does what it sets out to do - namely, use its heaviness the best way possible. A simple piano intro complete with chiptune and harpsichord moves unassumingly forward until the infamous Massive wobbles come into play. The "drop" section is surprisingly well-produced, as Midnight Comspiracy and Cenob1te chop and stutter the wobbles over and over again in a disorientingly careful way, with simple strings every beat to keep time along with the drums. The piece as a whole isn't going to break any boundaries or push beyond the current style of electro house, but it's still a brutal slice of electro that shows off the best sides of today's 110 BPM scene. Considering what it is, "Sentinels" succeeds greatly, and that's all we can really ask of these producers for now.
Stream the single on
Soundcloud
, or buy it on
Beatport
or
iTunes
.
Midnight Conspiracy:
Facebook
/
Twitter
Cenob1te:
Facebook
/
Twitter