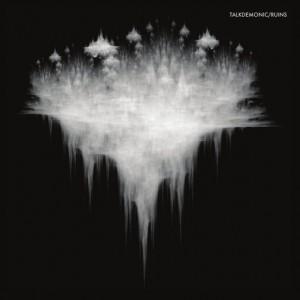 Talkdemonic feels like a difficult band to place, genre-wise. They're somewhere between instrumental, avant-garde, electronic, and post-rock, but share so much in common with each of these genres that they could be technically classified as any of them. However, this could be a good thing - with Kevin O'Connor's expressive interest in rhythm and mixing, and Lisa Molinaro adding with all the power and heart of classical strings, the project is essentially label-defying.
Ruins
seeks to push the limits of what Talkdemonic is perceived of being capable of doing, and after a straight listen, any sane listener would have to agree that the melodies, dynamic ranges, and constant flow of ideas are inexplicably brilliant.
The eponymous track opens with synths creating a hopeful tone with a vibrant compliment from Molinaro's cello, and breaks into a smoothly drifting, multifaceted synth-pop beat, deepened exponentially by the sheer number of instruments and tones, all blending into a veritable wall of sound. The explorations made in this song are brilliant - the warm string layers add to and help perfect the reverberating synth soundscapes, and each note mixes with such fervid grace that as the song dies away, the listener is kept drawn in, fascinated, wanting more.
"Chimera" is a much more laid back tune, with more of a focus on a single melody floating over everything, with other electronic layers and string chord supplementation to further the song. The pizzicato strings add a really neat percussive effect, as well as the driving of the tom rhythm throughout, and the beauty of the song really lies in the simplicity. There really isn't too much going on, it's the overall emotion that it creates. The softly ethereal keys and slowly swaying of the cello and viola create a calming atmosphere, like gently lapping waves, as the song takes the listener to a quiet place, and sadly dissipates, again leaving more to be desired.
Probably the most interesting (and irritating) part of the album was the way each song was like a cliff-hanger. I always felt like I needed more out of each song, like it was an incomplete idea, and the whole record was more of a sampler than anything, which will definitely keep me listening to it as time goes on. A lot of aesthetic things go on in this album that might not be caught on the first or second listens, but overall,
Ruins
was a much easier listen than I had initially thought. Hats off to O'Connor and Molinaro to creating one of the most artistically varied instrumental albums that I've heard this year. It's a difficult listen, but indubitably a rewarding one.
You can sample some Talkdemonic on their
MySpace
and find some cool links
on their site
.
Track Listing:
1) Slumber Verses
2) Ruins
3) Revival
4) Midcentury Motion
5) City Sleep
6) Violet
7) Summer Glass
8) Cascading
9) Time Draws On
10) Midnight Pass
11) Chimera
12) Palace Walk