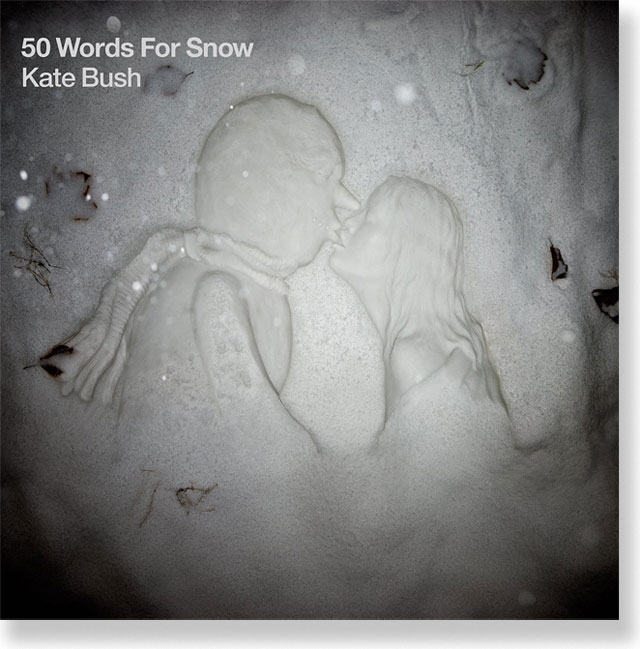 Album Rating: B-
While I could probably post some candid definition or reflection on the word "snow," I think it would be more effective to tell you that Kate Bush's 10th proper album is in a sense, the audible recording of snow. Majestic, ethereal, algid-such things describe Bush's
50 Words For Snow
, an album that sees the British pop royalty at the top of her game, years and years into her career. What is more impressive, however, is not that Bush has managed to remain relevant in a scene that isn't exactly conducive to late career releases, but it is that the artist has once again challenged the definition of what a pop album can and should be.
50 Words For Snow
is unlike a lot of the drivel the genre pumps out, in that is a beautiful, haunting, and introspective release that shows that although artists may age, their craft can remain just as incredible.
50 Words For Snow
is a notable release for sure; a collection of seven mysterious entities that have received utmost care from Bush. They ebb and flow with a serene beauty, and move like the entrancing falling snow. Never once does the album ever get worked up. It opens with Kate's always incredible vocals, softly crooning over light keys, and ends much in the same way. In a way, this is where the album really hits a snag. Although much of it is truly exemplary,
50 Words for Snow
never actually goes anywhere. Yes, the luscious chords and inherently gorgeous singing goes a long way in making a great experience, but it all feels somewhat flat. The album consists of seven songs, but they range from seven, to almost 14 minutes in length. It's a beefy work for sure, which typically wouldn't give cause for criticism, but it just stays at one level and never goes any further. Bush does an absolutely stunning job at creating a wonderful atmosphere, but it really is hampered by the painfully dull pace.
Aside from that admittedly egregious stumble, Kate Bush still manages to craft one heck of an immersive album. It's a lonely sounding work, truth be told, but it is captivating all the same. Bush does a great job drawing the listener into her cold, isolated world, while making everything seem warm and uplifting. The title track is the most atypical, and easily the strangest of the bunch, featuring spoken word segments, and a bevy of percussive elements. "Wild Man" is oddly tragic, detailing the hunt for the Abominable Snowman. Singing of loneliness and isolation, Bush comes across as heart achingly genuine. Musically, it is much in the vein as the title track, as it features more elements than the rest of the songs, and is much more interesting because of it.
Facebook
1. Snowflake
2. Lake Tahoe
3. Misty
4. Wild Man
5. Snowed in at Wheeler Street
6. 50 Words for Snow
7. Among Angels